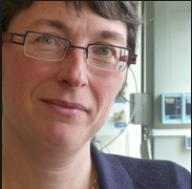 Dr Béatrice BECHET is a researcher of the French Ministry of Ecology, at the French Institute of Science and Technology for Transport, development and networks (IFSTTAR).
She was the co-leader of a research team working on urban soils and recycled materials at IFSTTAR and also the coordinator of a research federative program on urban soils at the Institute for Research on Urban Sciences and Techniques (IRSTVFR CNRS 2488, Nantes) (2011-2016). She is currently the head of the IRSTV.
She has 20 years of experience as a hydro-geochemist in transport of pollutants in soils, focusing on the colloidal facilitated transport of heavy metals in soils and urban waters, especially in the context of stormwater management. She has developed skills on laboratory and field and laboratory experimentation on particle transfer in porous media and on the interface processes controlling the retention and mobilization of particles in soils.
She has been participating in a number of national research projects in the field of urban soil pollution and in European projects (FP4; COST Actions). She is co-author in 12 research articles and 2 book chapters over the last 5 years.