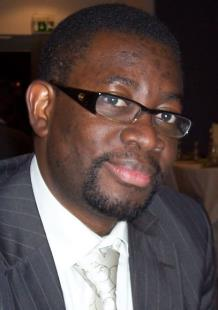 Senior Lecturer – Associate Professor at INSA Lyon, Scientific head of the field observatory for urban water management (OTHU), 40 years old
Campus LyonTech La Doua – INSA Lyon – DEEP, Building J.C.A. Coulomb, 34 avenue des arts, 69621 Villeurbanne Cedex – France
Phone :+33 (0)4 72 43 82 77 – Fax :+33(0)4 72 43 85 21
E-mail : gislain.lipeme-kouyi@insa-lyon.fr
Main Research fields:
Monitoring and modelling (including Computational Fluid Dynamics – CFD approach) of urban waters and stormwater transfer and fate in various scales of drainage systems and infiltration facilities;
Experiments and modelling of sediment transport and settling.
Author and co-author of 25 peer reviewed international papers, 43 international conference papers, 1 European patent, etc.
University degree
2014: Habilitation diploma, University of Lyon, France. Topic: Monitoring and modelling of urban waters and stormwater transport and fate in various scales of drainage systems
2004 : PhD thesis, Louis Pasteur University of Strasbourg, France, Topic: CFD modelling and solid transport in complex combined sewer overflows
2001 : Master of Science in Water Science and Technology, Louis Pasteur University of Strasbourg and ENGEES (National School for Water and Environmental Engineering of Strasbourg), France
Professional progression
Since 2007: Senior lecturer at the University of Lyon / Laboratory of Civil & Environmental Engineering, and in Civil Engineering and City-Planning Department, INSA (National Institute for Applied Sciences) of Lyon – then at Laboratory of Wastes Waters Environment and Pollution – DEEP since 2015.
Oct. 2005-Aug. 2006 period: Researcher on Radiation Technique for wastewater treatment at VIVIRAD Company
2001-2005: Project Teacher for engineer students of the ENGEES.
Award
Dec. 2013 : receiving ADEME/POLLUTEC HORIZON 2013 award during Pollutec international exhibition for his international patent on the novel hydraulic structure design (DSM: Dispositif de Surveillance et de Maîtrise de la qualité des rejets des déversoirs d'orage) leading to improve the monitoring of sewer systems.
Responsibilities, scientific animation and supervision
Guest Editor of Environmental Science and Pollution Research 21 (8). Title: Chemical, microbiological, spatial characteristics and impacts of contaminants from urban catchments: CABRRES project.
Scientific coordinator of several national /international programmes and tasks (e.g: FP7 EU PREPARED, ANR Mentor, ANR Cabrres)
Supervision of 5 post-doc and 8 PhD students since 2007.
Member of IWA (international water association)
Member of several French associations and working group on urban hydrology and stormwater management (ASTEE, SHF, AUGC)
Reviewer for several international journals